The idyllic coastal city of
Santa Barbara
offers residents the best of both worlds, sandwiched perfectly between the endless beauty of the mountains and the stunning waves of the crystal Pacific Ocean. With incredible weather, a relaxed vibe, and wonderfully sandy beaches, the area is extremely popular among real estate seekers looking for a sun-filled oasis of oceanfront living and picturesque scenery.
So, whether you're looking for a warm beachside condo, a historic mansion, or an ultra-luxurious estate further inland, there's something for every investor interested in Santa Barbara real estate. To give you an idea of what you can expect from the incredible homes in the area, take a look at these five recently sold properties.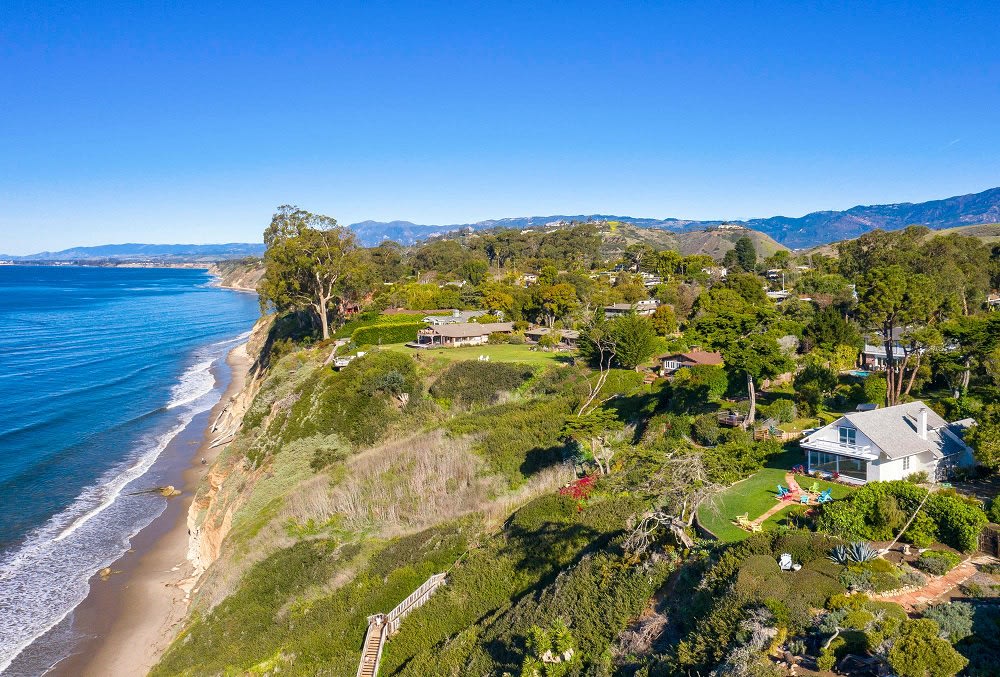 Photo courtesy of Kendrick Guehr Real Estate
A tranquil oasis where you're greeted by the sound of the rolling sea each morning,
2339 Edgewater Way
is an exquisite piece of Santa Barbara real estate along the coast of gorgeous Mesa Lane Beach. With four beds and two full baths, this waterfront paradise was built in 1945 and offers 2,150 square feet of charm and sophistication, from the stunning balcony viewpoints and fully upgraded kitchen amenities to the summery gardens and stonework paths surrounding the property. The interior has been updated with brand new flooring and modern designs throughout, while the home sits on an acre of beautiful green space along the rolling bluffs overlooking the ocean. Plus, the sandy shores are just a few steps away down the hill, so put on your sandals, grab your towel, and head down the hill to greet the waves. This gorgeous property overlooks the perfect spot for a relaxing day in the sun and surf.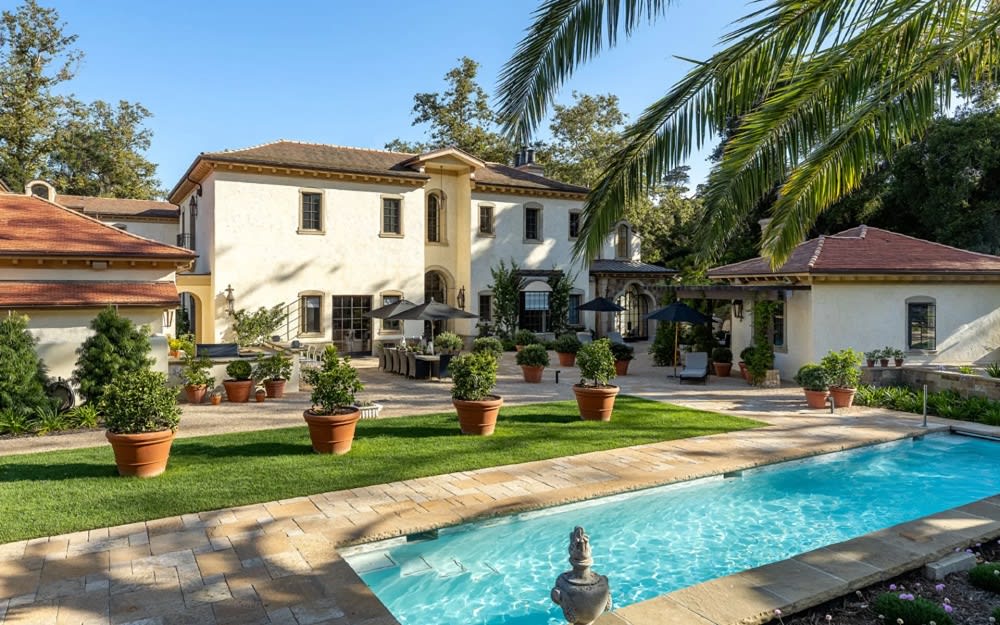 Photo courtesy of Kendrick Guehr Real Estate
With the stunning Montecito Foothills as a backdrop,
1240 E. Valley Road
is a must-see for jaw-dropping architecture, impressive landscaping, and thoughtfully elegant design at every turn. This resort-style property was built in 2011, redesigned in 2019, and today is a complete paradise, with 7,852 square feet of interior space consisting of six bedrooms and 10 full bathrooms spread out between the main estate and two guest cottages. The primary residence features a set of grand French doors leading into an incredibly elegant entry hall and foyer. The rest of the home is the epitome of grandeur and sophistication, from the gorgeous dining room and spacious study to the master suite with a fully modern en-suite, complete with steam showers. The residence boasts a wine storage space, culinary center and island, impressively expansive windows to let in the natural light, stunning walnut and oak flooring, and marble and limestone finishings.
With a fruit orchard, a 45-foot in-ground swimming pool and spa, a charming creek and koi pond, a fire pit, overlooking trellis, an air-conditioned cabana, six garages and a motor court, and an outdoor kitchen on the spacious patio, this is an amenity-seeker's dream come true. There are even bocce ball and tennis courts on the grounds to provide endless entertainment. Every facet of the home was intentionally designed to impress even the most discerning of buyers, with gorgeous marble and stonework, awe-inspiring archways, an iron-wrought entry gate, a circling driveway fit for royalty, an incredible terrace, and soaring sycamore trees to set the stage of luxury.
3. 1371 Plaza Pacifica
The quintessential piece of beachside Santa Barbara real estate,
1371 Plaza Pacifica
is a contemporary condo that feels like an oceanside resort. With two bedrooms, three baths, and a two-car garage, this property spans 1,674 square feet and looks out onto the shimmering water. The back patio is one of the main highlights of this property, with its white brick columns, stone tiles, and quick access to the beach. The primary bathroom features his and hers sinks with a soaker tub and warm stone accents. Residents at 1371 Plaza Pacifica have access to a shared community pool and spa and relaxing recliners along a coastal deck with beautiful Pacific vistas. There's also a jacuzzi, tennis courts, and outdoor dining areas for hours of relaxation or entertainment under the sunny skies. Feel right at home in the Bonnymede guarded community as you invest in one of the most stunning homes for sale in Santa Barbara.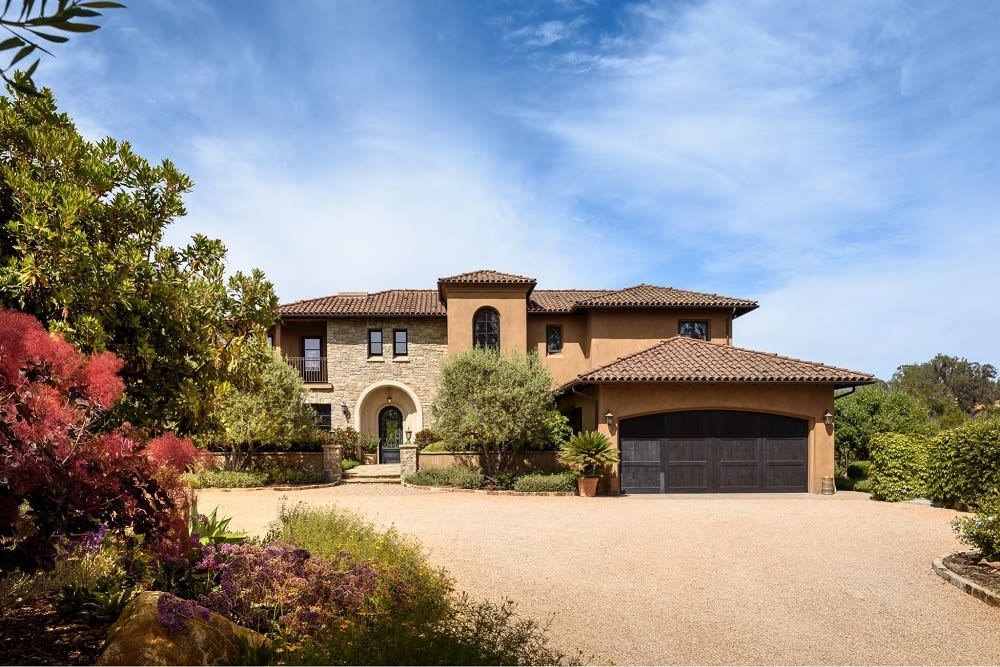 Photo courtesy of Kendrick Guehr Real Estate
Built in 2008, the stunning
1220 San Antonio Creek Rd
residence promises a life of luxury. With three bedrooms, three full baths and two half baths, plus a spacious library, grand family room, and executive office, this home features 4,670 square feet of impressive interior living space. The furnishings and finishes are artfully designed, with walnut flooring, custom cabinetry, and upscale fixtures throughout. Complete with a grand living area with an arched ceiling overhead, a chef's kitchen, and even an elevator down to the finished basement, this home has plenty to offer, from the French limestone elements to the divinely landscaped gardens. The master bedroom features an enormous walk-in closet, an elegant en-suite, and a stunning fireplace to paint the perfect picture of luxury. Bright windows open to picturesque vistas of the mountains, and the grounds are serene and sophisticated, with a solar-heated, salt-generated pool with an onlooking outdoor patio.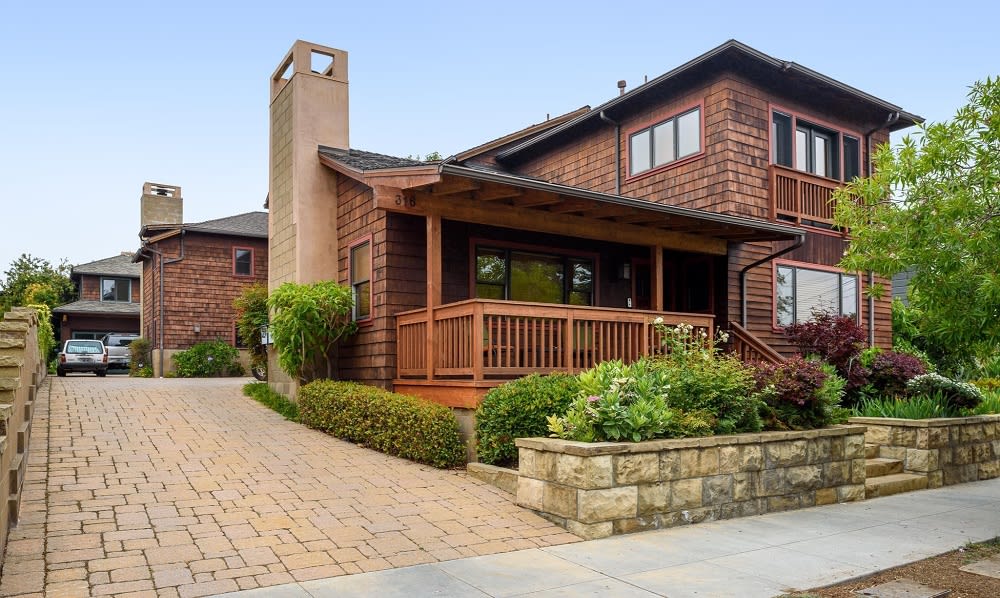 Photo courtesy of Kendrick Guehr Real Estate
316 W Ortega Street
is a three-bedroom, two-and-a-half-bath, two-car garage Craftsman condo with a rustic facade and expansive front porch that overlooks the street of lively downtown Santa Barbara. Stepping through the front door, residents are welcomed into a spacious living area with vaulted ceilings and a stone fireplace. Windows on each wall let in abundant natural light and are framed to perfectly complement the hardwood floors. The kitchen has updated appliances, recessed lighting, and a peek-through window over the adjoining breakfast bar that looks at the main dining area. Each of the three bedrooms within this lovely piece of Santa Barbara real estate has a set of doors that open to let in the cool breeze. The primary suite has a walk-in closet, his and hers sinks, and a tub. For storage, the home features a linen closet, laundry closet, pantry, and a two-car garage.

As this guide has shown, Santa Barbara is home to gorgeously designed real estate treasures waiting to be mined by the right family or investor. The local market is considered very competitive, with many homes selling in around 10 days for quite a bit above the asking price. Whether you're looking for a sprawling estate with several thousands of square feet, a beachfront condo with all the amenities, or incredible landscaping elements, the luxury Santa Barbara real estate market has something to offer. To make sure you're able to snag your favorite property in this phenomenally gorgeous and serene beachside city, work with a local real estate agent who is familiar with navigating the luxury market here. Your agent can keep you up to date on the latest listings in this oasis of sun and style.
If you're looking for the best of the best, your search can begin and end with
Kendrick Guehr
.
Kendrick
is an expert in luxury real estate, specializing in the gorgeous properties of Santa Barbara, Montecito, and the Santa Ynez Valley. Since 1988, Kendrick and The Epstein Partners have been guiding buyers towards their new homes in sunny Southern California, and they have consistently earned rankings in the top 1% of real estate agents in Santa Barbara. So, when you're ready to take the first step toward your next investment, contact Santa Barbara real estate expert
Kendrick Guehr
to find your new place in paradise.
*Header photo courtesy of Kendrick Guehr Real Estate