At the height of a feverish real estate market where demand is high and supply low, it's easy to assume that simply sticking a "For Sale" sign in the front yard means your home will generate multiple lucrative offers. You want to position your home in a way that brings high-intent buyers to your front door and compels them to make offers at or above the asking price.

When considering your own transition from your current home to the next chapter in your life, you want the home selling process to be as straightforward as possible. The more you can prepare upfront, the better you'll meet the challenges of selling your Santa Barbara home. Let's explore five critical steps to a successful transaction with our guide to selling your Santa Barbara home.
Partner With an Experienced Listing Agent
It might be tempting to forgo using a real estate agent to help sell your Santa Barbara home, as the chance to potentially save on any realtor fees that are paid by the seller is a tempting proposition. The reality, however, is that selling a home is a challenging and time-consuming process. Eschewing a knowledgeable and experienced listing agent means you'll be responsible for the following:
Identifying comps and review of recently sold properties to establish a list price for your home

Sourcing vendors or contractors for any home inspections, repairs, home staging, or escrow related service

Advertising and marketing of your home's listing, including the property's online presence and its listing on the multiple listing service or MLS (which you'll have to pay for out of pocket)

Scheduling and coordination of open houses or home tours

Engaging in direct negotiations with the buyer's agent
In addition to the above, selling a home in Santa Barbara involves paperwork and a lot of it. In many cases, documents are executed electronically. Regardless, someone has to compile the endless paperwork, which includes:
Original purchase contract

Property survey

Certificate of occupancy

Code compliance information

Tax records

Preliminary title report

Seller's net sheet

HOA documents

Mortgage statement

Maintenance records

Mandatory disclosures
The list above is just a small sample. Depending on where specifically in Santa Barbara the house is located or the property's uniqueness, the record gathering could be far more extensive. Luckily, with a listing agent at your side, the entire sales process is less time-consuming and a lot less stressful.
Prep Your Santa Barbara Home Before Listing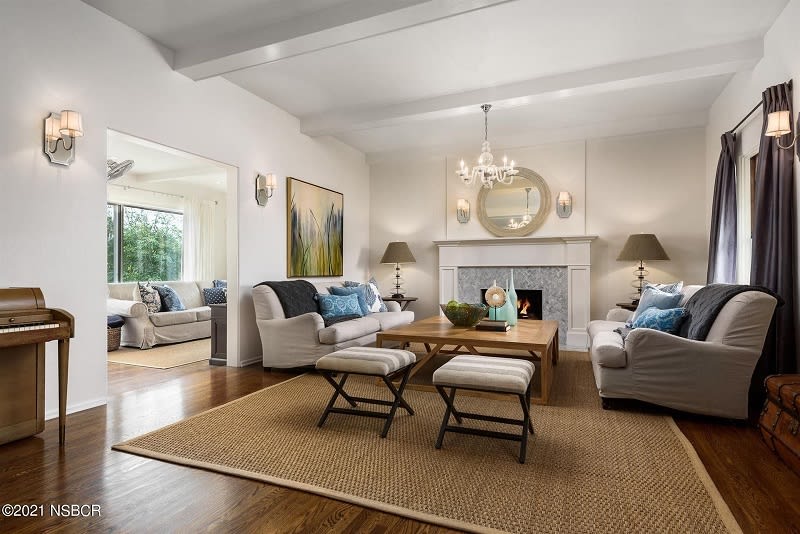 Again, in a market where it seems even the most underwhelming homes are being snatched up at top dollar, it can be tempting to market your house as-is, but that would be a huge mistake. Buyers don't flock to the American Rivera to buy property as-is, and they especially won't buy the home at full price.

Prospective buyers want to be dazzled and wowed. They want to know they're buying something tangible and ensure that the home has been well cared for. Buyers want a property that is both a spectacular place to live and offers an excellent ROI.

When selling luxury, and more specifically Santa Barbara luxury, your home needs to shine. When competing against similar properties, the only differentiator is the pre-listing prep that goes into the home. If you hope to maximize and increase your home's value, follow the important steps below.
Pre-Listing Inspection
Pre-listing inspections are gaining traction as an ideal way for sellers to stay one step ahead in the sales process. Especially when dealing with luxury real estate, any breakdown in the transaction timeline is costly. The pre-listing inspection identifies:
Problems or significant shortcomings of the home of which you were previously unaware

A list of necessary repairs that you either fix on your own or opt to disclose before the sale

Potential areas for updating to increase the value of the home that will appeal to buyers
The pre-listing inspection also gives you an advantage when it comes time for the buyer's inspection and subsequent negotiations. You know what to expect and are far better prepared to hammer out a final deal.
Repair, Update or Upgrade
The next step is taking what you learned from your pre-listing inspection and applying it to your prep. If the report uncovers minor repair concerns, address that upfront.

For any major items, such as roof or HVAC concerns, compare the cost of the fix versus what you might gain from the final sale. If overseeing or paying for a significant repair is unappealing and doesn't increase the home's worth, you can always negotiate concessions if it comes up at closing.

The goal is to give your home a fresh, new-house vibe when it comes to updates or upgrades. Unless your home is brand new construction -- meaning it was built within the last three years -- fresh paint, new hardware and fixtures, and an updated lighting package and window treatments will liven up a home and enhance its desirability to buyers.
Clean, Declutter, and Stage
Luxury, upscale homes in Santa Barbara come with a certain cachet. Look at any high-end eight-figure listing online, and you'll understand what draws buyers with deep pockets. There's elegance, refinement, and extraordinary attention to detail. Regardless of your listing's price point, this is what your home should aspire to be.

Clean and declutter your home to a level that allows buyers to forget that someone still occupies the home. The house should flow easily from one room to the next. Eliminate the lived-in feel by thinning out unnecessary furniture and accessories and removing any personal effects.

Stage the home as if it were a showcase. Highlight its versatility, uniqueness, and notable or sought-after design elements. Include your home's exterior as part of the process as well. You only get one opportunity to impress a buyer, and their impression of your property's landscaping and overall curb appeal carries with them throughout the home tour and beyond.
Set Your Price Wisely
Once your home is prepped and your listing ready to go live, work closely with your listing agent to set a realistic price. Even in highly competitive markets, buyers remain savvy. They pay close attention to value, and they know how to spot a home that's priced too high for the market to bear even in a sea of rising home prices. This is even more true at the luxury level.
Ultimately, demand will determine your home's price point. The following factors and considerations will help you arrive at a fair market list price:
Researching comps -- those homes comparable in size, style, location, and features -- will provide you a baseline of your listing's overall value.

Reviewing the most recent home sales in your market area will allow you to identify current market trends and conditions.

Factoring in your home's proximity to sought-after amenities - excellent schools, commercial districts, parks and recreational opportunities, beaches, golf courses, ocean or mountain views, and neighborhood access.
Pricing too much above the market can turn buyers away from your home, knowing other similar properties carry a better value. A house that lingers on the market ends up costing you far more than if you'd priced lower.

Your goal is to list an attractive home at an attractive price that generates a lot of interest and multiple offers. The more offers you receive, the more likely the final sale price will push higher, resulting in a profitable transaction for you.
Marketing to the Ideal Santa Barbara Buyer
If you choose an experienced Santa Barbara listing agent, you won't need to worry much about your home's marketing strategy. An agent well-versed in the market dynamics will expose your listing to a wide array of willing buyers.

As many of those buyers will first explore your property online, your digital market package should include:
Professional, high-quality images

Virtual and or video tours
MLS listing
Presence on additional online listing services (Realtor.com, Redfin, Zillow)
Social media presence that includes Facebook, Instagram, Pinterest, Twitter, or YouTube
Higher-end homes may even warrant additional marketing outlets, such as a prominent presence on your listing agent's website or a stand-alone landing page or website. Again, when marketing your home, lean on your real estate agent's experience and network to ensure your home receives maximum exposure.
Review Offers and Close the Transaction
When you start receiving offers, it's critical to vet them closely. Not all offers will be similar, and the highest bid isn't always the most attractive or viable one to accept. When reviewing offers, pay attention to the following:
Purchase method - is it an all-cash offer, or will the home be financed?

If financed, what type of financing is being used?

Is the financed offer pre-approved or pre-qualified?

How much is the down payment?

Are there any contingencies attached to the offer?

Does the offer come with special considerations?

What is the proposed closing date?
You will want to aim to target the offers closest to or above your asking price, but the offers should still allow the least path of resistance, meaning the offers are those that are most likely to close on time and without issue.

Once you accept an offer, the closing process can begin. The final steps include:
Signing a purchase agreement

Opening an escrow account and ordering a title report

Buyer's inspection

Negotiations (which may consist of a request for repairs or concessions)

Home appraisal

Execution of the contract

Settlement

Payment of closing costs

Disbursement of funds
During the buyer's inspection, a final walkthrough of the property is done to ensure that all aspects of the contract are as they appear — this includes checking the utilities, so be sure to leave those turned on during this process. It's likely that the buyer will check to make sure all stove burners work, test the washer and dryer for functionality, flush toilets, check the furnace and air conditioner, and open all windows and doors to make sure nothing has been overlooked.
When the time finally arrives to sign the final papers, any defects found during the final walkthrough will be resolved, each party will pay closing costs, and keys will be handed over to the new owners. Once all checks have cleared and the deed has been recorded, funds will be disbursed to you, and the selling process is complete!
In most cases, the final process takes anywhere from 30 to 45 days. Although
three-fourths of all home sales close on time
, exercise patience. You'll want to anticipate that delays are possible, but they rarely impact the overall outcome of the deal.
Ready to explore the best of Santa Barbara real estate?
Contact Kendrick Guehr
, Santa Barbara's #1 real estate team, to start your home selling journey.