With a nickname like The American Rivera, the city of Santa Barbara has a lot to live up to. It's not enough to simply claim itself the preeminent destination along California's vaunted Pacific coastline — it has to prove it to the world.

Even a short stay in this community of more than 92,000 is enough to dazzle the weariest of travelers — and many find themselves coming back again and again. Many more who could choose to live anywhere else in the world end up calling the area home long-term.

But what makes this spectacular enclave such a draw? What is it about this city perched above the Pacific Ocean that captures the imagination of homebuyers from across the country and the world?

Let's find out with these seven reasons why people who have the luxury to live anywhere in the world continue to choose Santa Barbara.
Location
Location is the cornerstone of any great place to live, and it's proved to be one of Santa Barbara's most redeeming qualities. Set along the Pacific Ocean with the Santa Ynez Mountains framing the city's northern border, Santa Barbara offers a spectacular view wherever you go. There's always an Instagram moment just waiting to happen.

For the outdoor types — and trust us, to live in Santa Barbara is to love the outdoors — the city is a perfect jumping-off point for natural excursions. Whether it's hiking, biking, spending time on the beach, or exploring nature, you're never too far from an outdoor pursuit.
You're also within arm's reach of Los Angeles. Roughly an hour and a half northwest of Downtown L.A., Santa Barbara is very much a getaway to live, work and play. Certainly, it's earned its reputation as a premier vacation destination for those traveling up from the City of Angels. But its proximity also makes it a magnificent area to work remotely. And when you do have to venture into the big city for a day or two, there's no better feeling than coming back home to Santa Barbara.
Commitment to Education
Let's be honest, plenty of cities claim to be focused on education. And most can boast of a couple of great schools and maybe a museum. Not bad, but then you venture into a city like Santa Barbara, where the commitment to learning is on a whole different plain.

Top-rated schools are everywhere, including Cold Springs Elementary, a top 20 public school in California. Other notable institutions include Santa Barbara High School, Montecito Union Elementary, Dos Pueblos Senior High School in neighboring Goleta, and private schools Garden Street Academy and Providence.

Santa Barbara's other highly rated institutions cover all grade levels and all educational needs. Public, private, or charter, it doesn't matter — the commitment to education is a priority, and every child is allowed to grow and excel. The city is also home to UC-Santa Barbara and Santa Barbara City College, the top-ranked community college in California.
Culture and Community
But the learning doesn't stop there. Santa Barbara plays host to several world-class museums, which celebrate the arts and cultural history of the region. Top among these is the
Santa Barbara Museum of Art
, Santa Barbara Museum of Natural History and its sibling Sea Center venue, the
Museum of Contemporary Art Santa Barbara
, Old Mission Santa Barbara, the Santa Barbara Historical Museum, and the
MOXI, The Wolf Museum of Exploration + Innovation
.
Santa Barbara is also a notable destination for festivals and community-sponsored events. And because there's something planned practically every month of the year, you'll always have an opportunity to experience the best of the close-knit community.
Several of the area's top annual events include the Santa Barbara International Film Festival, the International Orchid Show, the Jewish Festival, the French Festival, Old Spanish Days Fiesta, the California Wine Festival, July Fourth fireworks, and a holiday parade and a parade of lights on the Santa Barbara Harbor.
Quality of the Outdoor Lifestyle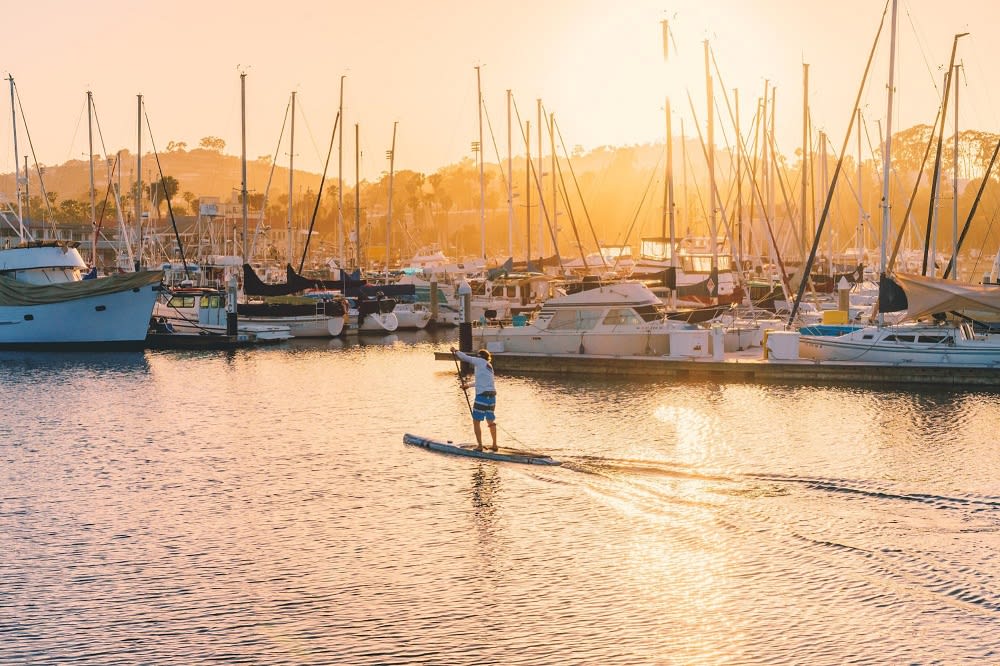 We've already covered several aspects of Santa Barbara's unmatched lifestyle — the education, the culture, the genuine sense of community. But that's only a small part of the story. The city truly comes alive when you step outside. Then you fully realize how unique Santa Barbara is.

The first thing you'll notice is the weather. The word that comes to mind is perfect — and that perfection lasts all year. Like its European counterpart, the American Rivera features a Mediterranean climate — the winters are warm, the summers are cool, and the temperature remains moderate all year long. The average yearly high sits right at 70 degrees. The average annual low is a crisp, comfortable 55 degrees. Sunshine is abundant and rains much less so.

There's only one thing to do in this kind of weather — head outdoors. From hiking the foothills and backcountry of the Santa Ynez Mountains to exploring the trails that meander closer to the Pacific to trekking in the majestic terrain of the Channel Islands, there's variety, challenges, and stunning scenery with every step you take.

We can't forget Santa Barbara's most outstanding outdoor feature: its beaches. There's surfing. There's paddleboarding. There are picnics and volleyball and beachcombing. And there's the simple pursuit of relaxing and sunbathing underneath the gorgeous Santa Barbara sky.

We haven't even mentioned the city's parks, which total 1,808 acres across 60 individual green spaces.
Shopping and Dining
As wonderful as the outdoors are in Santa Barbara, there's still plenty of fun to be had inside — unless, of course, you find a cozy little patio somewhere in the city to drink and dine. They're easy to find in Santa Barbara, taking advantage of the city's impeccable climate.
But before you do, how about a little retail therapy? Many of the region's best retail destinations take advantage of the beautiful climate. The open-air
Paseo Nuevo Shops & Restaurants
is luxury shopping at its finest. The wonderfully unique
Funk Zone
specializes in boutique shops, galleries, and cafes. La Arcada features locally-owned stores wrapped in eye-popping old-world architecture.
Much like everything else in Santa Barbara, the restaurant, bar, and entertainment scene is nothing short of stellar. Whatever your taste buds desire, you can find it here.
Farm-to-table fare is everywhere, including the vaunted Santa Barbara Farmers Market. There's a deep roster of luxury-laden establishments specializing in Italian, Mexican, and Asian-influenced plates. If you're looking to entertain a family and sample some of the area's best local flavors, seafood and oceanfront dining offers a win-win scenario.
Love wine? You'll find it here, and some of the best bottles are locally sourced. Love beer? More than a few microbreweries will address that craving.
A Thriving Theater Scene
Arguably one of Santa Barbara's most underappreciated qualities is the city's historic theaters and the broad range of entertainment they host. It's a joyfully eclectic cultural feast.
The nearly century-old
Arlington Theatre
plays host to diverse programming, including plays and musicals, dance performances, comedy productions, touring musical acts, and first-run films (it serves as one of the hosts to the Santa Barbara International Film Festival).
The Granada Theatre
is home to the Santa Barbara Symphony, Opera Santa Barbara, and the State Street Ballet.
The Lobero Theatre
and The New Vic anchor the city's historic theatre district. And on the UC-Santa Barbara campus, The Riviera Theatre is the home of the Santa Barbara International Film Festival. It supports many cinema-related programs throughout the year.
The Best of All Worlds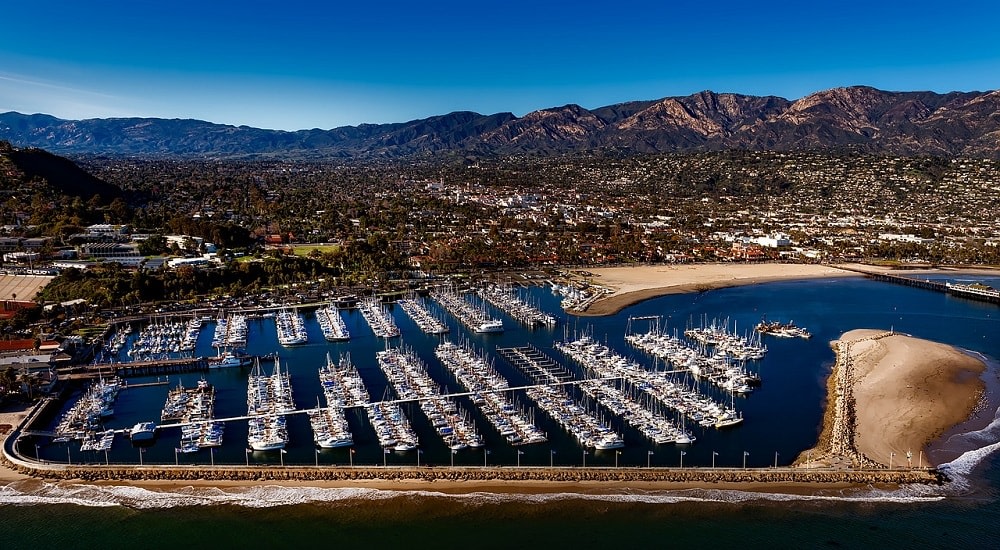 The secluded mountain foothills of Bel-Air. The ritzy refined opulence of Beverly Hills. The grand seaside Pacific Ocean setting of Malibu. Three distinct, luxurious, sought-after neighborhoods west of Los Angeles. Hard to choose just one as the ideal landing spot, right?
Why compromise when a mere 90-minute drive away you can have all three in the enclave of Santa Barbara?
Our final reason why people choose Santa Barbara is quite simple. When it comes to living a luxury lifestyle, it's the best of all worlds — a seaside mountain lifestyle and what is considered by some the country's most amazing collection of real estate.
Each area of the city boasts unique homes and envy-inducing views. In Downtown Santa Barbara, you'll discover classic Spanish architecture and convenient walkability to the city's best shopping, dining, and nightlife. Closer to the coast, well-appointed bungalows and contemporary townhomes offer a high-end, low-maintenance lifestyle.
Rivera features Spanish mansions and sweeping views of the Santa Ynez Mountains and Downtown Santa Barbara. With their acreage and uninterrupted views of the Pacific, there's a lot to love in Campinil, Eucalyptus Hills, and Hope Ranch.
These are seven reasons why people choose Santa Barbara, but in truth, there's so much more. It's a destination that must indeed be seen to be believed. And if you can dream it, we're confident you can find and live it out here on the American Riviera.
Ready to explore the best of Santa Barbara real estate?
Contact Kendrick Guehr
, Santa Barbara's #1 real estate team, to start your home selling journey.
*Header image credit: Santa Barbara, CA